First of all: The sale and purchase of night vision attachments is permitted throughout Germany. The ban on contact was lifted by the legislature. An exception are real night sights, which have their own reticle and can be used mounted on the weapon instead of a telescopic sight. These remain prohibited for all hunters.
Despite all this, the use of attachments with night vision is still prohibited by hunting law. Only the federal states of Lower Saxony, North Rhine-Westphalia, Saarland, Saxony, Saxony-Anhalt, Schleswig-Holstein, Thuringia, Rhineland-Palatinate, Berlin, Mecklenburg-Western Pomerania, Hesse, Brandenburg and Baden-Württemberg allow use, mostly limited to wild boar hunting. In Bavaria there are temporary special regulations in this regard.
Especially in times of African swine fever and a sharp increase in the wild boar population, the use and demand for night vision attachments has risen sharply. There are many models on the market and the question automatically arises: Which device is recommended? We have selected some products for you and evaluated various test reports and reviews.
1. The inexpensive all-rounder: Diycon DNVC-3 Black Mamba
With a weight of around 480 g and compact dimensions of 143 x 55 x 90 mm, the dual-use device is easy to use. The photo resolution is 2680 x 1944 px, and the night vision device is also equipped with a 6x digital zoom.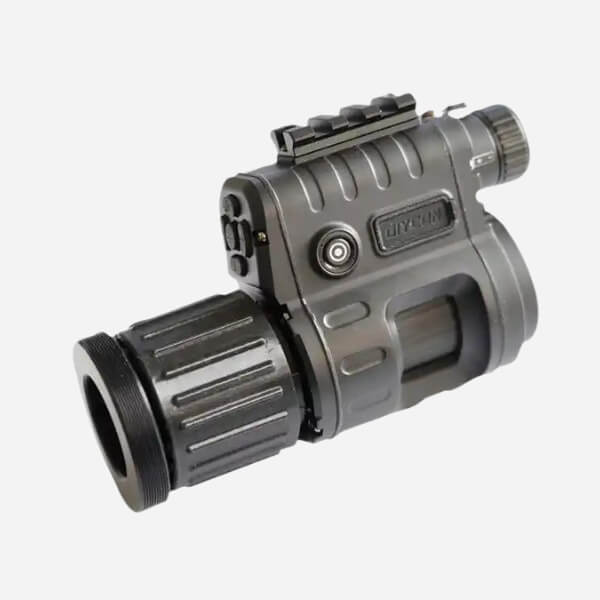 ✅ Connection thread for common M52x0,75 clamp adapters available
✅ CMOS sensor with Full HD resolution
✅ removable battery
✅ Power bank operation is possible
✅ Shooting precision of less than 4 cm
❌ Buyers report that some devices were not bulletproof
Features
The Diycon DNVC-3 offers a number of advantages that make hunting and targeting game easier. With a magnification between 1,6 and 6x and a resolution of 2680 x 1944 px, it is possible to target game up to a distance of 350 m. In practice, however, factors such as the environment and weather also play a relevant role and may restrict visibility. If you want to evaluate your observations later, you can download the image and video recordings to your PC via Wi-Fi or HDMI connection.
The rechargeable battery with an operating time of up to 10 hours is replaceable. If necessary, the device can also be easily operated using a power bank. The model, which can be used day and night, has the option of making internal settings for shot precision directly within the menu. This makes a collimator for zeroing superfluous.
Summary
The Diycon DNVC-3 Black Mamba is a handy device that can be mounted on the riflescope in just a few simple steps. It has all the technical features that you would expect from a digital product of this type: internal memory, Wi-Fi option, CMOS sensor with Full HD resolution, removable battery. With a price of just under €1200 (as of November 2022), the Diycon DNVC-3 Black Mamba is in the lower price range.
You should be a little careful when zeroing in, because some reviews have noted that internal components came loose and the device had to be sent in for repairs or replaced.
2. The outdated classic: dipole DN34 Ultra night vision attachment
The DN34 from Dipol is not a new release, but has been on the German market for more than 7 years. With its high-resolution Photonis Echo image intensifier tube and manual brightness control, the demand for this device is still there. The performance is between 58 – 74 lp/mm and S/N 24+.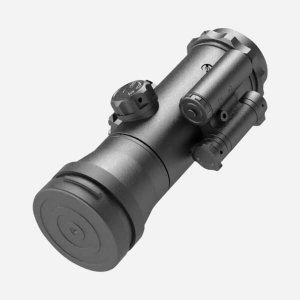 ✅ Continuously adjustable dimmer
✅ Dimmable and focusable 100 mW infrared laser with 850 nm
✅ Repeatable assembly thanks to the adapter rings with the size 41 / 50 / 56 mm
❌ Image quality now obsolete
Features
Night vision devices with image intensifier tubes have not lost any of their attractiveness, as the DN 34 Ultra proves. Dipol itself states that this product covers a wider spectral range compared to conventional picture tubes and thus makes better use of the natural residual light. According to the manufacturer, glare and distortion are a thing of the past with this model. With this GEN2+ tube, the sharpness itself can be infinitely adjusted without any problems using a lens on the device.
Summary
If you are looking for a robust device without a lot of technical frills, you should keep an eye on the DN 34 Ultra. The model can score with its uncomplicated handling, but there are now night vision attachments with a much better image quality at acceptable prices.
✅ Long battery life of up to 60 hours
✅ Temperature range from -40 °C to +50 °C
✅ the close focus starts at 10 m
❌ relatively heavy weight
Features
The night vision attachment has a residual light intensifier from Katod Gen2+, whereby the sensitivity of the photocathodes is 550-750 µA/lm. The manufacturer guarantees a maximum hitting error of 1/2 MOA, which corresponds to approximately 1,27 cm at 100 m. This is due to the precise calibration of the residual light intensifier tube or the optical axis, which should not lose any of its reliability even after years. The lifetime of the splash-proof device is also impressive at 60 operating hours. Other notable data: 70 mm lens diameter; Lens system F 1:1,44, the close focus is 10 m.
Summary
Despite the continuous advances in digital technology, tube devices have lost none of their functionality and popularity. In terms of price, Night Pearl night vision device NP-22 Gen2+ Premium Green plays in the upper league. However, it is a robust device that many hunters rely on to safely address game.
Summary
Diycon DNVC-3 Black Mamba, Dipol DN34 Ultra oder Night Pearl NP-22 Gen2+? Was soll es sein? Jedes Gerät hat seine Vor- und Nachteile. Die hier aufgeführten Details und Tipps bieten nur grobe Anhaltspunkte. Der Markt der Nachtsicht- und Wärmebildtechnik ist groß und Ihr solltet das für Euch passende Modell auswählen. So ist das Dipol DN34 Ultra mit seiner Bildqualität zwar veraltet, aber vielleicht genau das Richtige für Euch, wenn Ihr auf der Suche nach einer zuverlässigen und bewährten Technik seid.
Sicher auch interessant für dich: unser Artikel "Die besten Nachtsichtgeräte für die Jagd".
More frequently asked questions on the topic