The idea of ​​powering a radio with an alternative energy source is by no means new. In 1937, a device was presented at the Leipzig Trade Fair, which received its operating energy from a kerosene lamp. Even though the cornerstone for the dynamo-powered radio was laid at this time, this type of technology fell into oblivion for a long time. Only in 1983 did it appear again at the International Consumer Electronics Fair. And has been constantly improved and developed ever since.
Crank radios are now versatile and - what seems almost more important - small. So they can be found in almost every emergency bag and emergency kit. They are commercially available with rechargeable batteries, solar and crank operation as standard. Disaster management agencies around the world agree that every family should own one of these devices.
There is a large selection of brands and types of modern crank radios. And this is where we come in. We took a close look at some models and evaluated the numerous reviews and the respective equipment. Find out for yourself which device suits you. It doesn't matter whether you just want to complete your outdoor equipment or are preparing for an emergency.
The 3 Best Crank Radio for Prepping
1. The inexpensive all-rounder: Nigecue Solar Radio 4000 mAh
The radio from Nigecue, which weighs around 270 g, can not only be operated with a crank, but also with solar power. A flashlight with 3 modes, a reading lamp with a motion sensor and an SOS alarm complete the equipment. In addition, a 4000 mAh power bank should be able to supply smartphones and the like with electricity.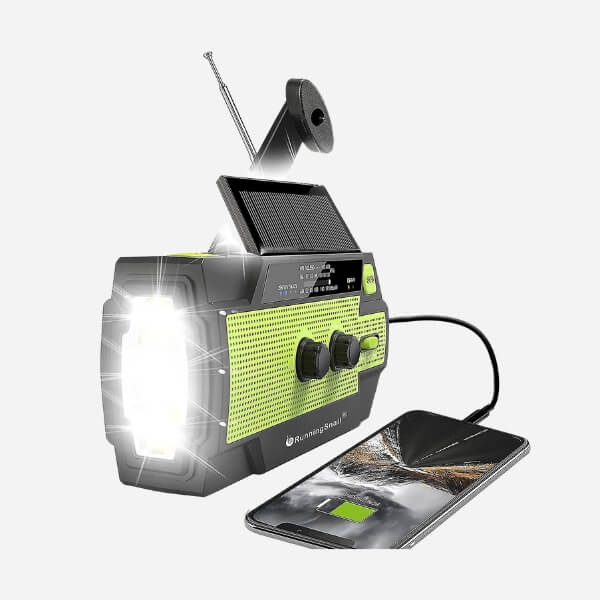 ✅ Replaceable battery
✅ Can be charged using a crank, solar and power bank
✅ Integrated solar panel
✅ Flashlight included
✅ Splashproof
❌ Can only be used as a power bank in an emergency
❌ Battery capacity is not fully charged even with solar operation
Details
With the Nigecue Solar Radio you bring a small all-rounder into your home. Because the handy radio with 4000 mAh Li-ion battery can be supplied with energy in different ways. If you don't feel like cranking for your radio reception, let the integrated solar panel take over this task. If the sun isn't shining (or it's dark), you can also connect a power bank. A special feature compared to many other models: The battery is not permanently installed here, so you can replace it at any time if necessary.
In addition to the option of listening to the radio and always being up to date, the crank radio also has a flashlight with 3 different light modes and a reading lamp with a motion sensor. Many buyers in their reviews indicate that the light is bright enough in all cases. The case is perceived as solid and robust, which is particularly important for outdoor use. The IPX3 certification is also an advantage. The radio is perfect for a trip to the beach, but it should not fall into the water.
Summary
If you are looking for a small radio that should serve its purpose as a replacement or for emergencies, the crank radio from Nigecue is an interesting alternative. In addition to the crank, you can operate the device using a solar panel or power bank. The reception and the volume are described by the users as loud and clear, whereby the adjustment of the radio stations requires some sensitivity. The power bank function cannot be used as such, at least not in continuous use, as can be seen from the reviews.
2. The compact contemporary: Alpbuddies Blackout Pro+
Hand crank, solar cells, desk lamp, LED flashlight and SOS button: this radio seems to leave almost nothing to be desired. For outdoor use, it is also rainproof and has a 2000 mAh battery for the emergency power supply of small electrical devices.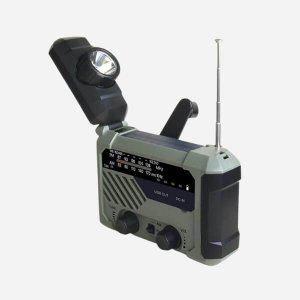 ✅ Solar panel
✅ Power bank with fast charging function
✅ LED flashlight and desk lamp
✅ Splashproof
Details
The Alpbuddies Blackout Pro+ radio feels solid and compact in your hand. With its 9,4 x 15,5 x 4,9 cm, it also fits in smaller bags, but it weighs just under 500 g. The small device is equipped with everything you need for hiking, fishing or in times of crisis: radio, light, emergency power bank. During a blackout, you could charge the radio with a crank; the built-in solar panel takes over this task when the sun is shining. In comparison to other models, however, this is rather small. The device also has the following features:
battery

DC input

battery indicator

AM/FM/WB switch

radio switch

Loudspeakers
Another special feature: If your smartphone's battery is getting low, you can charge it with the crank radio.
Summary
The reviews of the crank radio are consistently positive. 5 out of 5 stars from 1743 reviews. Satisfied voices report that the quality of the Alpbuddie is good and that the other functions are also extremely useful on outdoor trips. With a battery capacity of 2000 mAh, however, the model is small. Definitely not a substitute for a "real" power bank.
✅ SOS alert
✅ Flashlight with different modes
✅ Compass
✅ Solar panel
✅ Rechargeable via USB Type-C cable
❌ can never be fully charged with crank and solar panel
Details
With 10.000 mAh, the hand crank radio from Gindoly has the highest battery capacity of all the models that we have examined on this page. If you want to protect your arm muscles, the device can also be charged via the sun or USB Type-C. Plug in the power bank and enjoy (almost) unlimited music enjoyment in the wilderness.
In addition to receiving the radio, you can use the 3W LED flashlight to illuminate the area in the dark. Or you can use the reading function of the lamp in the tent and read the exciting chapter of your book to the end. In addition to an SOS alarm function, which, as some buyers mention in their reviews, is very loud, the product also has a compass. Even if the GPS on your phone should fail, you can still use the radio to navigate the wilderness.
A charge indicator keeps you up to date on the remaining power and shows when the hand crank radio needs to be recharged.
Summary
With the solar or crank radio from Gindoly you have a back-up solution at hand if the power fails or you are far away from any sockets. The reviews are mostly positive. Above all, the handiness of the device, its good sound quality and the radio reception are praised. The brightness of the flashlight is also good, as can be seen from the reviews. Neither solar cells nor a crank are sufficient to quickly and fully charge the radio. Accordingly, it is not recommended to use the product regularly as a power bank for the smartphone.
How to choose the best radio
When looking for the best crank radio, you will come across different types with different features. Most can be charged with rechargeable batteries, a hand crank, or a solar panel. In many cases, a combination of all three options is even possible. Before you set off and buy a device, you should know what to look out for. Find out which functions - besides receiving radio stations - you need. In addition, the following criteria can help you with the selection:
power consumption
A radio for crisis situations must have low power consumption. Models with a renewable energy source, such as a hand crank or solar panel, are ideal. If you own or are thinking of getting a battery-powered device, it should be powered by AA or AAA batteries. Because these battery sizes are common and available almost everywhere. You could also use rechargeable batteries and charge them with a solar charger if necessary.
Ribbons
Most crank radios can receive AM/FM. A few models are also able to receive shortwave and public bands over which warnings are broadcast by public authorities. Make sure you read the product description and fine print before purchasing. So you know which frequency ranges you get for your money. Especially the bands next to AM can be very useful in an emergency or other crisis situation.
acquisition cost
As with almost every product, it can happen that you get the device for "an apple and an egg" or have to spend a lot of money. Depending on the manufacturer and the equipment. However, the adage "You get what you pay for" doesn't necessarily apply. In other words, you can definitely get a usable crank radio for little money. Just compare it with the acquisition costs for a smartphone. The flagships of well-known manufacturers sometimes cost well over 1000 €, but often come with technical features that are rarely or not at all needed in everyday life. Other cell phones, on the other hand, cost far less, but still serve their purpose and are also robust. So think about whether it really has to be an expensive radio or whether the cheaper version is not sufficient for your needs.
Size
A loudspeaker can only provide a certain performance. The same applies to the antenna. You might want to put your radio in the small front pocket of a backpack. Or you generally make sure that the prepper supplies and equipment remain as compact as possible. Some crank radios are barely bigger than the palm of your hand, but the speaker is small and the features are limited.
If you are thinking about permanently integrating the device into your emergency room or sharing it with your family, you should buy an externally connectable speaker or a larger radio. Remember: the more powerful the model, the more energy it consumes. Devices with solar cells or the option to connect a power bank give you more options so you don't have to crank all the time.
Display and fine adjustment
When it comes to the question of whether it should be digital or manual tuning, opinions differ. We prefer digital fine tuning because it's easier and more precise. However, the theory is that digital tuners don't last as long as manual ones. Digital displays and tuners are more complex to manufacture and have more components. Instead, these radios often contain a clock and the option to set an alarm. Manually tuned models are exactly what you'd expect them to be: emergency radios, no clock. Keep in mind that in a crisis situation, you may not have the ability to rely on cell phone or computer clocks. On the other hand, these are again features that cost energy and are unnecessary if you don't need them.
Reception
Radio reception can be affected by many different things. Some people use wires to build longer antennas to get a better signal. For example, you could install an additional antenna on your roof or balcony. Or you have a wire ready for crisis situations, which you can strip if necessary and attach the ends to the existing antenna. This improves reception.
Why emergency radios are full
A hand crank radio has the advantage that you can keep up to date in times of crisis. Regardless of whether there is a power outage or not. There may come a time when you need to get out of the house and need every little bit of information about local escape routes, supply lines, or weather fronts. Any message that could be important for your survival and warns you of a danger is good information.
Depending on the situation, hand crank radios can very quickly become vital pieces of equipment. Since the devices can be powered by a hand crank, you don't have to worry about the power supply. Modern devices now also have alternative methods, such as solar cells. You can operate many models with long-lasting, rechargeable lithium-ion batteries. The good news: These batteries are widely available. Many devices also offer the option of operating the radio using a USB connection and power bank.
Emergency radios are essential for:
Home prepper equipment

escape backpack

Car survival kit
In any type of emergency, up-to-date, reliable information is extremely important. A radio can supply this data. And with a hand crank radio, you're even prepared if there's a power outage.
Being properly prepared is the be-all and end-all of your chances of survival. And this is where a hand crank device can provide valuable services. Even if you just like to travel or camp far away from civilization, a portable radio will provide you with important information.
Summary
The models in our crank radio comparison article are inexpensive and affordable. Find out for yourself which Dynamo radio meets your requirements and equip yourself with it. Incidentally, it also makes sense if you not only concentrate on the types mentioned here, but also look at other models and offers on the Internet.
It's a good idea if you have several crank radios in your household. Because the additional functions, such as an LED zoom flashlight or power bank, can also make life easier for other people in a crisis situation.
More frequently asked questions on the topic
Crank radios do not require a power connection and can be operated using a hand crank, solar panel or USB cable and power bank. The devices are not only suitable for preppers, but also for campers and hikers. An outdoor radio is robust and also has various features, such as a flashlight and SOS signal.
A compact radio is useful at home when there is a power outage. This way you can continue to receive important information. When camping or hiking, it may also be necessary to know the local weather conditions and forecast.
On average, crank radios last 2 weeks. If they are not used during this time and have been fully charged using solar cells, hand cranks, batteries or power cables. As soon as the device is put into operation, the service life of the battery charge decreases. Depends on what features you use.