Power outages are no longer an urban myth, but a real danger. There are many reasons why the lights in your home suddenly go out. In addition to heavy snowfall or a storm, a traffic accident can also be responsible. Emergency generators ensure that you don't have to stand completely in the dark in such cases. The powerful models are even able to supply larger household appliances with energy.
The range of power generators is constantly growing. The products differ not only in performance, but also in price. At first glance, it is difficult to find the right emergency power generator. In this article we have compared some recommended devices and can tell you more about performance, purchase price and ratings.
1. The cheap: Einhell Classic, 2,8 kW, tank volume: 15 l
According to the manufacturer, this power generator has a continuous output of 2600 watts and a maximum output of 3100 watts. 2 230V sockets including a voltmeter make it easier to operate smaller household appliances.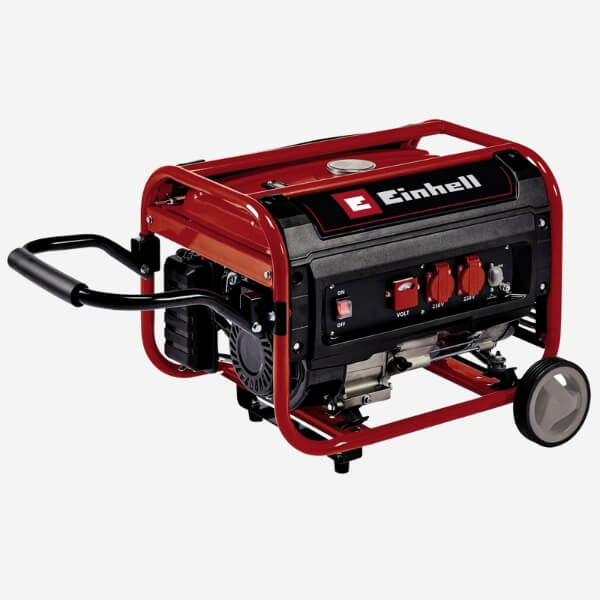 ✅ Low consumption of approx. 1,25 l/h at 2/3 load
✅ Oil shortage protection and overload switch ensure safe operation
✅ Easy to use pulley
✅ 4-stroke petrol engine
❌ No inverter power generator
Features
There is a large selection of emergency generators in specialist shops. The Einhell TC-PG 35/E5 power generator is suitable for purists who can do without the operation of larger household appliances. The 4-stroke engine has a tank volume of 15 liters and a maximum output of 3100 watts. This is enough to power smaller devices, such as lamps and power tools, for almost 10,7 hours. The model's automatic voltage regulation (AVR function for short) ensures stable output power. The product is additionally equipped with an overload switch and a fuse against lack of oil. Operation is therefore safe and durable.
The manufacturer explicitly states that the Einhell TC-PG 35/E5 (runs at Hagebau under the name "Einhell Classic 2,8 kW") is only suitable for operating smaller electrical devices. This is due to the fact that the AVR cannot regulate the voltage spikes enough to allow devices with an on-board control board to be connected. From the existing reviews, however, it can be seen that not all buyers follow this recommendation and also use the power generator to supply refrigerators, smartphones, kettles and fans with energy. However, it should be noted here that Einhell cannot be held liable for problems or damage that may occur if its devices are used improperly.
Summary
The power generator from Einhell is explicitly sold as such by the manufacturer and is not purely an emergency power generator. We expressly advise against connecting or feeding into the home network. The recommendation is that only light and electrical tools should be operated with it. If you still want to connect larger household appliances, you should be aware that you act at your own risk. At just under €320 (as of November 2022), the model is in the lower price range and, due to its low performance and weight, is also ideal for camping holidays or the garden shed.
2. Good value for money: Champion inverter power generator 73001l-E-EU, 3,2 kW
With a tank volume of almost 6 liters and an output of 3,2 kW, the power generator from Champion is rather small. However, the special features are inside the device. Because the model has an integrated inverter unit.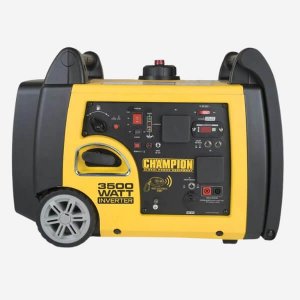 ✅ Smooth-running cable pull
✅ True sine wave inverter technology
✅ Overload protection
✅ Shut-off sensor in case of lack of oil
✅ 58 dB(A) at 7 m
❌ Tank is relatively small at 6 liters
Features
If you plan to supply important household appliances, such as a freezer and laptop, with electricity in the event of a short-term power failure, an inverter power generator makes sense. Champion's 73001l-E-EU model features this technology, allowing it to keep more sensitive devices running. Like many modern generators, the Champion model features a low oil shut-off. In practice, this means that the emergency generator switches off automatically when the oil level is too low. The practical overload protection is an additional safety feature. If you connect too many electrical devices, the power generator will automatically switch off in the event of an overload. This option also extends the life of the product.
The manufacturer states that the model can be operated in parallel with other Champion Inverter generators. This increases the output power. With a load of about 25%, the tank filling lasts up to 8 hours. Another plus point: Compared to other generators, this model is relatively quiet in operation with 58 dB(A), which was measured within a radius of 7 m.
Summary
The emergency generator from Champion is relatively small with a tank volume of 6 liters, but the model is powerful. In the event of a power failure, it is sufficient to supply all important household appliances with energy for a short period of time. According to the manufacturer, the oven, freezer and television can also be operated with it without any problems. This also makes the Champion Inverter Power Generator 73001l-E-EU interesting for camping holidays.
3. The powerful: Könner & Söhnen KS 10000E G - hybrid petrol-LPG 4-stroke power generator
✅ Very good customer service
✅ Hybrid model
✅ LED display showing hours worked, current frequency and output voltage
✅ E-start function for easy starting of the generator
❌ Choke lever is made of plastic
Features
In the event of a longer-lasting blackout, it is always good to have various alternative options for generating energy. And this is exactly where the emergency generator from Könner & Söhnen comes into play. Because the power generator with a 4-stroke engine can be operated with both petrol and gas. With its 7500 watts, the model is able to operate larger household appliances such as ovens and refrigerators. The four-stroke petrol engine is air-cooled and has a tank capacity of 25 liters. Its operating time is easily 50 hours at a 15% load. With gas and a 2/3 utilization, the consumption is about 1 kg per hour. How long you can operate the device with it depends on the connected gas bottle. This is of course not included in the scope of delivery.
The evaluations show that the emergency power generator is well suited for single-phase house feed-in. If larger loads are switched on, the voltage needs a moment to stabilize. The noise level is perceived as slightly louder than a petrol lawnmower, which is still within the normal range for such products. Due to the mode of operation, you should only operate the generator in dry and well-ventilated places far away from your living quarters anyway.
The Könner & Sönnen power generator is operated exclusively with gas by many buyers. The propane bottles are easy to handle and durable over a longer period of time.
Summary
With a sales price of just under €1400 (as of November 2022), the KS 10000E G - hybrid petrol-LPG 4-stroke emergency power generator is definitely noticeable in the wallet. With its power of 7500 watts, the automatic 230 V voltage regulator and many other technical features, these costs are justifiable. The special feature of this emergency generator: It can be operated with either petrol or gas. Ideal if the next gas station is not just around the corner or you just want to make provisions for the next blackout. Because in this case it is unlikely that the public retail trade will be open. Gasoline is unsuitable for long-term storage and must be renewed regularly.
In the event of regular power failures, such as those that occur in snowy regions in winter, such models are indispensable. So you don't have to worry about which of your household appliances urgently needs to be supplied with energy. There is one small disadvantage, as noted by some buyers: the choke lever is made of plastic and seems to be a weak point compared to the rest of the high-quality workmanship. The manufacturer's customer support is available for problems of any kind. As you can see from the reviews, the reaction comes fairly quickly.
More frequently asked questions on the topic
In the event of a power outage, no matter how short it may be, you only want one thing: to supply your most important devices with energy. Each of us has different priorities. For some, for example, it is refrigerators and freezers that need to be kept running. Another prepper, on the other hand, wants to charge his smartphone or watch DVDs on the television. However, not all power generators are suitable for this.
Computers, laptops, televisions and many other electronics are sensitive and it is advisable that the generator set has a pure sine wave inverter. This supplies an AC voltage, as it also comes from the socket. Modified sine wave inverters can cause damage to household appliances because the voltage here rises and drops suddenly. If you want to operate more than just the lamps in your living room, make sure that your emergency generator has inverter technology.
The answer turns out to be more of a counter-question: What are your entitlements? What should the power generator do and which devices do you want to connect? If you are looking for an emergency power generator for your garden shed, it does not have to be as powerful as a power generator for an entire household. If you don't want to supply a family house with electricity for days, we recommend the Champion Inverter power generator 73001l-E-EU, 3,2 kW. The emergency power generator is small enough to run at least the most important household appliances for a short time.
If the products on this page do not appeal to you or do not meet your expectations, take a close look at other emergency power generator test reports and compare the different models with each other.
If you want to connect high-voltage devices, you should use a power generator with at least 5.000 watts. Of course, more is better and ensures that you can connect more devices or power the most important ones for a longer period of time. Important to know: For safety reasons, gas or petrol-powered generators should always be operated away from living areas.