Whether you're planning a road trip, a beach trip, or a camping trip, keeping electricity connected in remote areas can be a challenge. Solar energy is an excellent, environmentally friendly option for powering electronic devices on the go. However, traditional panels are bulky and designed to stay in one place permanently.
From large models for expeditions by car to pocket-sized battery packs, there are a large number of different solar panels available in specialist shops. Here is a small, detailed summary of which models have proven themselves in practice. Decide for yourself which of these is your favorite and can accompany you outdoors in the future.
1. Best Solar Charger: BigBlue 3
Weight: 670 g
Number of USB ports: 3
Panel size 28 watts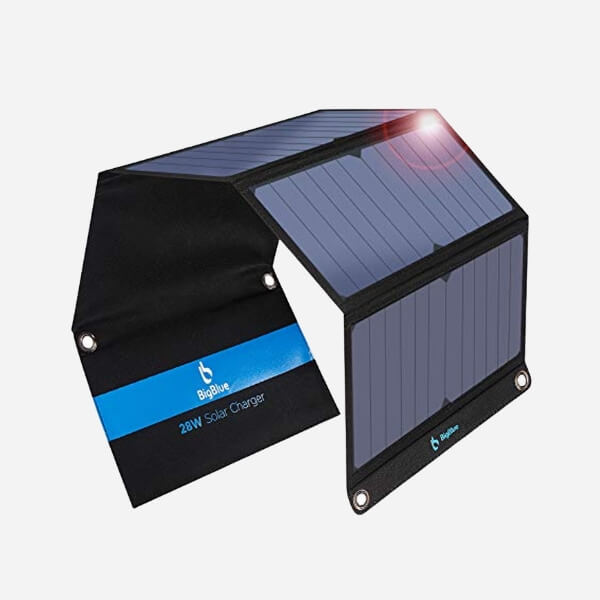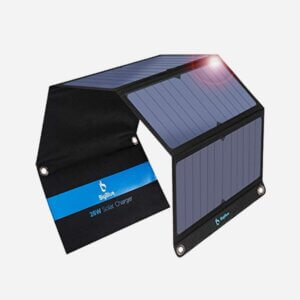 ✅ Efficient
✅ Works even under difficult conditions
✅ Auto restart function
❌ Difficulty charging multiple devices at the same time
❌ Bulky
Details
The BigBlue 3 surpasses all other solar panels in its function. It has an impressive charging capacity and can convince with its consistent performance across the board. There may be other models that load faster or look better. When it comes to overall performance, however, this product clearly has the edge.
The energy supply of electronic devices remains constant even under different conditions. It doesn't matter if the sun is shining or if it's partly cloudy.
As for features, buyers will like the built-in ammeter (measuring device that measures current) and the zippered storage pouch. The simplicity and affordable price of this panel are also appreciated. With its three USB ports and classic clamshell design, the BigBlue is a great all-rounder that efficiently charges most small electronic devices.
A disadvantage of this panel is its weight. It's a bit heavy at just under 700g. Therefore, it is better suited for off-road use or wherever you can take a little more luggage with you. Weight aside, this model consistently gets high marks.
2. Another excellent performer: Anker PowerPort 21W
Weight: 500 g
Number of USB ports: 2
Panel size: 21 watts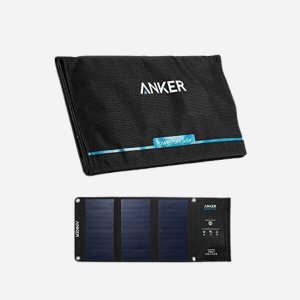 ✅ Efficient
✅ Powerful
✅ Great value for its size and features
✅ Light weight
❌ The included pouch is too small to hold extra cables and accessories
Details
Year after year, the Anker PowerPort 21W is a front runner. It has the same characteristics as the 15W, but has 6W more power. The device has a fast charging speed: it takes 3 hours and 40 minutes to charge an external 6.000 mAh battery in full sunlight. This makes the solar panel one of the fastest in this comparison. Charging multiple devices at the same time is also easy.
It's not the lightest model we've tested, but for its size (20+ watts) it's pretty good. Its tri-fold design is about the size of a magazine and packs away easily. This candidate was hard to beat in terms of charging function, weight and price.
✅ Overcharge protection
✅ Negative ground charge controller for RV compatibility
✅ Includes alligator clips with fuse
Protective pocket
✅ Compatible with different battery types
✅ Adjustable aluminum foot stand
✅ LCD display for showing operating values
❌ Only 100 watts of solar power
Details
The Renogy 100W solar case is ideal if you prefer an all-in-one solution. In addition to the foldable panels and connectors, this pack includes the Voyager charge controller with a backlit LCD display. This means you can charge any type of 12V battery directly, as the controller allows battery type selection with a few clicks.
The solar charge controller is also equipped with intelligent protection functions and offers you several charging modes to conserve the battery. If you don't plan to buy a power station and still value performance, the Renogy 100W solar case is an interesting proposition.
A small downside: The foldable solar modules are almost twice as heavy as those from Bluetti and Jackery, but only deliver half the wattage - namely only 100 W.
✅ Lightning fast charging
✅ Pretty light
✅ Can effectively charge multiple devices
✅ Reasonable price
❌ Poor function in poor conditions such as cloudy skies
Details
The Ryno-Tuff 21W impressed us right away with its charging capability. Shoppers report cell phones being charged to over 30% within 30 minutes. That's impressive for any panel, let alone a modest 21W model. Even charging multiple devices at the same time works, even if the specified performance is not quite as convincing here. The panel is also robust and relatively compact, so that it is also suitable for trips into the hinterland. This combination of features and a reasonable price make this product an excellent option for those who are on a tight budget.
We had a few complaints about this record, but they're all pretty minor. First of all, the storage case is very small and barely fits a phone, which makes it feel a bit useless. In addition, the Ryno Tuff has only had moderate results when recovering from interrupts. This shows that it is not the best option for use in exceptional situations.
✅ 200 watt solar charge
✅ All-weather design
✅ Excellent for prolonged outdoor use
❌ Only suitable for permanent installation
❌ No direct USB charging
❌ Cable and connector not included
Details
When most people think of portable solar panels, they think of flexible solar panels that you can fold into a closed protective case and deploy to a new location within seconds when needed.
However, many of our readers are RV and off-grid enthusiasts who want a permanent solar solution for their RV or cabin.
If you want to mount the solar panels on the roof of your caravan and leave them there, SunGold Power 200W would be recommended.
These panels have a strong, weatherproof aluminum frame, but are still considered portable due to their weight and ease of installation.
You don't need a complicated roof attachment. The portable solar panels come with pre-drilled holes and you can choose how and where you want to mount them.
The downside is that they can't be easily moved to capture the most sunlight. You may have to move your motorhome.
✅ Very light
✅ 10 anchor points
✅ USB end devices can be charged directly
✅ Detects interruptions and automatically resumes charging
✅ Charging status of connected devices are detected and stopped when the battery is charged
✅ Splashproof
❌ Only 28 watt solar charging power
Details
This handy little solar panel is the size of a 12" tablet when folded and fits just about anywhere.
When unfolded, the Nomad 28 reveals four monocrystalline solar panel segments and ten mounting lugs, giving you a variety of mounting options.
Just like GoSun 30, these portable panels will not power your microwave or TV - they are intended solely for direct charging of phones, tablets, cameras and other USB devices.
✅ Durable construction
✅ Sophisticated design with large pocket
✅ Very fast loading speeds
✅ Works well in difficult conditions
Details
Although the SunJack 25W does not have the highest wattage of any panel in this test, it still delivers impressive performance. Mobile phones, external batteries and other electronic devices are charged efficiently and without any problems. The compact design and durable construction inspire confidence. It also performed well in partial shade or partly overcast, which many competitors failed to achieve.
The biggest disadvantages are the price and the size. Had it been a bit smaller or lighter, the solar panel would have earned a higher spot on this list. Still, the Sunjack remains an excellent option with fast loading speeds.
✅ Comes with a charge controller and alligator clips
✅ Impressive low-light performance
✅ Great build quality
✅ Protective case
✅ Compatible with different battery types
❌ Only 100 watts of solar power
Details
The Renogy 100 Watt Eclipse Solar Panel is very similar to the Renogy 100 Watt 12 Volt Monocrystalline Solar Panel in terms of specifications.
However, Eclipse offers something extraordinary - it is perhaps the best solar panel that works in low light conditions. Also, the panels are made in Germany and we all know the reliability of German engineering.
Since it comes with a case, it is extremely flexible. These solar panels make camping trips very easy! The inclusion of the charge controller and alligator clips is something not found on many brands.
The only downside is the weight. Because 6,4kg for a 100W panel is something to think about.
How to choose the right solar panel
While most portable solar panels are easy to install and simple to use, there is always a lot to consider when investing in a new technology. We've rounded up what we think are the most important factors to consider before powering up outdoors.
Type
Not all solar panels are the same. There are three different types you can choose from. The first is monocrystalline modules. They are known for being rigid and heavy. However, they are also durable and very efficient. They come in different forms.
Polycrystalline panels are similar to monocrystalline ones but are blue in color and have lower performance. The last choice would be CIGS panels. This acronym stands for copper, indium, gallium and selenide. They are flexible and thin but not as durable as the other modules.
Ultimately, the choice of panel should depend on where you intend to use it and how long you need it in the field.
Wattage
First, consider how much electricity you need. Some modules are available in different wattages - a measure of pure electrical output. For example, the Goal Zero Boulder Briefcase, a compact, foldable module, is available in 50, 100 and 200 watt versions. However, the models with higher performance are larger and more expensive. So which panel is best for you depends on what kind of electronic devices you want to power.
Solar panels with lower performance are by no means useless. But they may charge smartphones and the like more slowly.
For best results, look at the specifications of your devices and find out how much power their batteries can hold. This will prevent you from buying a panel with a much higher wattage than you need. Because the higher values ​​are also noticeable in the weight and price.
Power storage options
Many portable panels come with the necessary accessories you need to store the electricity generated by solar energy. So you can use it even when the sun isn't shining. A charged power bank, for example, also charges the battery of your tablet or mobile phone at night or on a cloudy afternoon.
If you want to prepare and stock up on self-sufficient energy, you should buy a product that includes converters, cables, and batteries.
It is also possible to omit the accessories and use the solar power immediately. Many portable modules have USB ports that allow you to charge electronic devices directly. The elimination of batteries and cables can also help to keep the costs of the solar system down.
Size
Some people say that size doesn't matter. Believe us: these people have never had to lug around a solar panel! If you want to go hiking or camping with a solar panel, you should choose a smaller or at least a foldable model. This makes it easy to take with you.
However, if you're using these panels for other outdoor activities (e.g., a backyard party or a music festival), larger panels may be more acceptable. Another advantage is that the larger surface area of ​​such products usually also provides more energy.
Flexibility
If you want to carry your solar panels around with you, you have to make an important decision: to fold or not to fold. At first glance, a foldable panel might seem like the perfect choice. They are light, easy to take with you and very practical. However, such plates are less durable and may need to be replaced more frequently.
An alternative is a slab that is the right size and shape for your needs. So you can basically pack "around it" and create a special space for the record. Such models are more durable, but you have to reckon with more weight.
Weather
Quick question: does it often rain and storm in your area? The answer to that can determine which portable solar panel you should end up buying. If you live in a rainy region, a product with a higher efficiency makes sense. The reason: These models make optimal use of the sun's rays. However, this purchase makes itself felt in the wallet. Otherwise you can also use a module with a lower efficiency.
While most solar panels are at least reasonably weather resistant, not all are truly waterproof. But you certainly don't want to ruin your brand new device and end up without power. Find out about the durability of the panel before you buy it.
Price
The last factor to consider when choosing a solar panel is how much money you are willing to spend. Certainly such a small device will never be amortized by the electricity generated. However, being able to use your own power source outdoors is an advantage that should not be neglected.
The price depends on the performance of the panel, the energy storage components and the overall size. Small powerhouses with solar components can be found for under €100, but a larger (and more powerful) panel can cost as little as four figures.
Integration
Some models come with rechargeable batteries. Depending on your requirements and needs, this makes sense. These are separate storage cells that are charged by the modules. You can then use the stored energy at a later time, regardless of the weather. Such solar powered batteries are also an environmentally friendly option that can be used indoors all year round.
Type of use
Do you want to camp for three days or longer? Will you use refrigerator for the entire duration of the trip? If so, you should calculate how much wattage your devices require. Daily consumption can be calculated by multiplying the total number of amperes your devices draw per hour by the number of hours you want them to run. Again, multiplied by the total number of days planned, you get the total number of amps required for your camping trip. The total memory should be larger than the calculated daily consumption. This will ensure that you always have enough energy.
Do not unnecessarily overuse the battery life. For a longer vacation, you should buy a solar panel that generates more energy than you use daily.
Summary
Deciding on the right solar charger can be an overwhelming task. To make the decision easier, you should think about what you want to use the device for. Do you run a mobile office and need to keep several energy-hungry devices running? Or is it only important to you to charge the cell phone battery in between?
The lower wattage products are less expensive but also less powerful. As the wattage increases, the modules usually become more efficient. There are no limits to your choices, depending on how much money you are willing to spend.
We've shortlisted the top contenders and taken a closer look at them. Some offer better performance than others. However, a higher price does not necessarily mean that the model is better. We hope that our article will help you in your search for the right solar panel.
More frequently asked questions on the topic